Start 2021 Safely With Support from the Human Services Department
Date Posted: January 29th, 2021 @ 10:24 AM
Last Updated: January 29th, 2021 @ 11:59 AM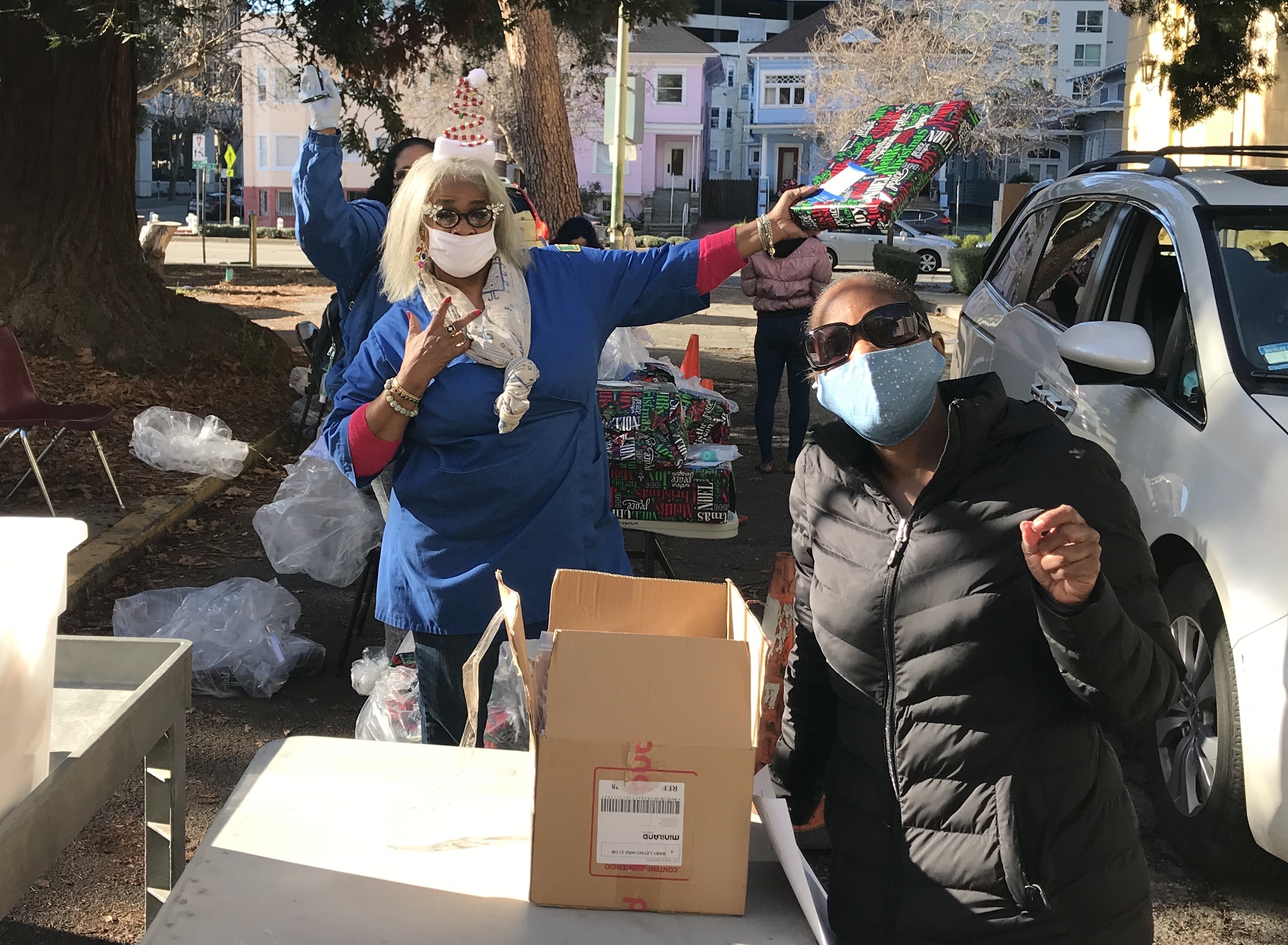 Oakland Head Start family advocates distribute gifts to Head Start families during the holiday season, in a COVID-19 safe manner!

Updates from the Human Services Department, January 2021
Covered California Open Enrollment Ends Jan. 31
Do you need healthcare? Sign up for Covered California before January 31, 2021! Covered California's open-enrollment period is the one-time of the year when anyone eligible can sign up for healthcare coverage for 2021. Consumers can check their options and see if they qualify for financial help by using the Shop and Compare tool on the revamped CoveredCA.com. Here's how to get help purchasing a healthcare plan:
Economic Impact Payments Are On Their Way
In late 2020, the federal government approved a second round of stimulus checks -- this time $600 per eligible person and $600 per qualifying child. The Internal Revenue Service is now urging people to visit IRS.gov for the most current information on the second round of Economic Impact Payments rather than calling the agency or their financial institutions or tax software providers.
"Golden State Stimulus" May Bring Cash Relief and Eviction Moratorium Extension
On January 6th, California Governor Gavin Newsom announced two immediate action items in his 2021-22 State Budget proposal to help low-income Californians. First, the Golden State Stimulus would provide $600 rapid cash support directly to roughly four million low-income Californians. The state's stimulus will also reach low-income Californians who are excluded from the federal stimulus, like undocumented households that file taxes with an Individual Taxpayer Identification Number (ITIN), including parents with U.S. citizen children. Second, the Governor is calling for immediate action to protect more Californians from eviction by extending critical eviction protections enacted by AB 3088 and ensuring that California's $2.6 billion share of federal rental assistance is distributed according to greatest need and with accountability. Under this proposal, California renters who are experiencing financial hardship related to the COVID-19 pandemic and pay at least 25 percent of their monthly rent cannot be evicted for unpaid rent. Click here for more details on these proposals. For rental assistance in Oakland, check out these resources from the East Bay Housing Organizations.
Head Start Centers to Reopen After Extended Winter Break for In-Person Classes Tentatively Mid February
The staff and families at the City of Oakland Head Start are once again proving their resilience. Due to the COVID-19 surge currently affecting Alameda County, the Oakland Head Start centers have closed once again for in-person classes. Teachers will instead be instructing the pre-K students remotely, using the distance learning skills they've cultivated since last March. Oakland Head Start centers were last open for in-person classes on December 18, before closing for the holidays and then remaining closed as COVID-19 cases rose. The tentative reopening range for Oakland Head Start centers is mid-February 2021 and is subject to change. Oakland Head Start has begun recruiting for enrollment for next year! Apply to Oakland Head Start here. For a comprehensive list of distance learning resources, look at this guide that Oakland Unified School District librarians have put together.
Spreading Cheer to Head Start Families From a Distance
Before the COVID-19 surge and the closures of the Oakland Head Start centers, family advocates with the Oakland Head Start program distributed hundreds of gifts to Head Start families! At the end of December, Head Start family advocates passed out free toys to over 400 Head Start families using a socially distanced drive-through drop off system. For the families who came by to pick up gifts — thank you! We hope the gifts brought you and your children joy.
Dr. Noha Aboelata of Roots Clinic Wins the Oakland Humanitarian Award
On Sunday, January 17th, Congresswoman Barbara Lee presented the Oakland Citizen Humanitarian Award to Noha Aboelata, M.D., founder & CEO of Roots Clinic, for her outstanding work on behalf of the Oakland community. Dr. Aboelata received the award during Living Jazz's "In the Name of Love" event, the 19th Annual musical tribute honoring Dr. Martin Luther King, Jr.
Living Jazz, an Oakland based non-profit and producers of the MLK Tribute, originally created this award to acknowledge those who give of themselves beyond the call of duty and to inspire others to work for the betterment of the community. The recipient is chosen with the help of Oakland's Department of Human Services, and in the spirit of Dr. King's tireless efforts.
Dr. Aboelata has devoted her career to eliminating health disparities and improving the health of marginalized communities. Through Roots Clinic, founded in East Oakland, she has pioneered the delivery of culturally responsive "Whole Health," and championed the integration of physical and behavioral health care, workforce enterprises, health navigation, and mobile medical services, to address the needs of over 10,000 members. She has overseen Roots' growth from 2-person volunteer effort to a multi-campus, multi-county non-profit with over 175 staffmembers. To learn more about the work of Dr. Aboelata's Roots Clinic, head here. For more free and low-cost clinics in the East Bay, Oakland Wiki has your back. Watch the whole Living Jazz program — with incredible music — here.
Quality Transit: A Constant in Changing Times
John Griffin, Oakland resident and retired educator, was diagnosed with cancer about 10 years ago and has had to navigate the realities of that diagnosis, which have been further complicated during the pandemic. Mr. Griffin uses Quality Transit, a vendor of Oakland Paratransit for the Elderly & Disabled (OPED), three times a week for medical appointments. He states, "the level of human kindness and respect he receives from Quality and OPED is beyond compare" and wholeheartedly recommends the program. Oakland and Piedmont residents age 70+ or 18-69 with a mobility disability can contact (510) 238-3036 for service information. OPED is funded by Alameda County sales tax initiatives Measure B/BB administered by Alameda County Transportation Commission (www.AlamedaCTC.org).
Sammy's Pupusas Delivers Free Food to Operation HomeBase in East Oakland
On Hegenberger Road in East Oakland, 67 trailers house vulnerable people as a part of Oakland's Operation HomeBase, providing a safe place for high-risk people to self-isolate and maintain their safety and health during the COVID-19 pandemic. And every Friday since last summer, the recently opened Oakland-owned pop-up restaurant Sammy's Pupusas has delivered free meals to Operation HomeBase. Read the full article about Sammy's Pupusas free food distribution on Oaklandside here. Learn more about Oakland's Community Housing Programs here.
From Head Start to the U.S Senate!
Senator Reverend Raphael Warnock, one of the two newly elected Democratic Senators representing Georgia, is a Head Start alumnus! Sen. Warnock's election means that there are now two Head Start alumni serving in the U.S. Senate, including New Mexico's Sen. Ben Ray Lujan who was elected in November. There have also been a number of Head Start alumni in the U.S. House of Representatives, but Senators Warnock and Lujan are the first to grace the halls of the U.S. Senate. While neither representative is from Oakland, they represent the heights that Head Start students can rise to with investment and support!

Contact the Human Services Department
The Oakland Human Services Department exists to make our city a place that works for all. We offer free programs and provide public resources to community organizations that make sure all of our residents can access what they need to be safe, healthy and realize their full potential.
Human Services Main Office
510-238-3121
150 Frank H. Ogawa Plaza, 4th Floor
Oakland, CA 94612
Alameda County Oakland Community Action Partnership
510-238-2362
Community Housing & Homelessness
510-238-6187
Head Start
510-238-3165
Oakland Fund for Children & Youth
510-238-7163
Oakland Youth Advisory Commission
510-238-3245
Senior Services
510-238-6137
Sugar Sweetened Beverage
510-238-7163
Summer Food Service Program
510-238-7992