Economic & Workforce Development
The Economic & Workforce Development Department works to bring about a vibrant, innovative, globally competitive economy in Oakland. Our mission is to increase investment in Oakland in a way that contributes to the growth of the City's economy, fosters fiscal sustainability, expands job opportunities for all residents, and enhances the City's sense of place and quality of life.
Read about the resilience of local businesses during the pandemic, equitable growth strategies to bring opportunity to all Oaklanders and the tremendous investment that continues to flow into our community in the Think Oakland First insert.
News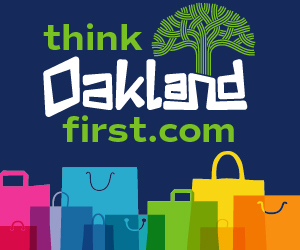 Dec 03, 2021
City partners with Visit Oakland & Oakland Metro Chamber to encourage Shopping Locally this Holiday Season
Nov 18, 2021
The Neighborhood Voices for Festivals grant program seeks to bring Oaklanders together to create and support a sense of belonging through festival culture.
Nov 15, 2021
The Oakland Fund for Public Innovation, in partnership with the City of Oakland, invites qualified Oakland cultural practitioners to respond to a Request for Qualifications (RFQ) for a new round of the Cultural Strategists-in-Government Program.
Related Pages
Contact Us
Address
250 Frank H. Ogawa Plaza
Suite 3315
Oakland, CA 94612