Last week, I delivered the first State of the City address since I proudly became your Mayor. During the address, I reflected on our accomplishments and our challenges. I also had the opportunity to chart a course for our great city. My agenda is focused on four key areas: Community Safety, Homelessness and Affordable Housing, Clean and Healthy Neighborhoods, and Economic Opportunity.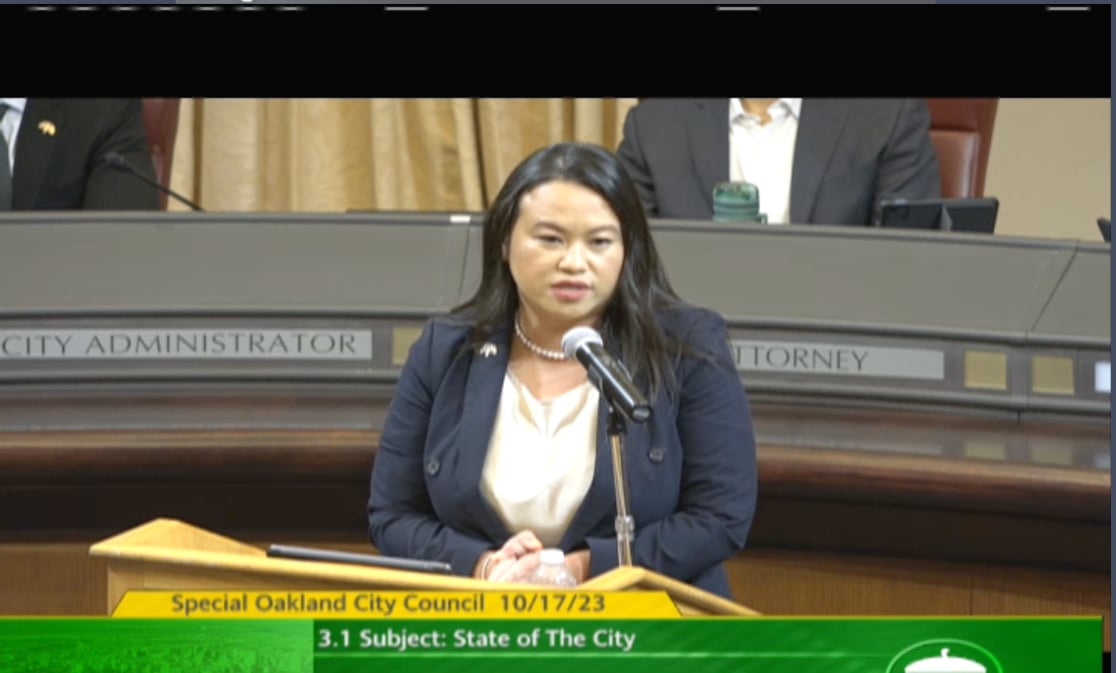 Community Safety
Community safety is my top priority, and making Oakland safer for children, families, businesses, and visitors is the first thing I think about when I wake up in the morning and the only thing on my mind when I fall asleep at night. My administration will aggressively pursue a comprehensive community safety strategy by investing in a more robust and accountable police department, strengthening our violence prevention initiatives, and utilizing technology to modernize our investigations and disrupt criminal networks.
In my first ten months in office, we laid the groundwork for our community safety strategy by:
Budgeting for six new police academies, which represents an increase from four academy classes in the previous year.
Restored police foot patrols to key corridors and then expanded these units citywide.
Worked with Governor Gavin Newsom to bring California Highway Patrol officers to Oakland to help with traffic enforcement. This deployment has resulted in 36 arrests, 9 DUI arrests, 24 vehicles impounded, and 52 stolen vehicles recovered.
As a result of our investments, Oakland has more police officers on the street than at any time in the past two years. In the coming year, my administration will build on these efforts by:
Recruiting new 911 dispatchers, taking deliberate steps to retain veteran dispatchers, and replacing our antiquated Computer Aided Dispatch system to improve 911 answer times.
Adding new community ambassadors in the busiest business corridors throughout the city and new security personnel, security cameras, and other additional infrastructure will also be in place to enhance public safety in time for the holidays.
Installing 300 new automated license plate readers (ALPR) throughout Oakland to collect evidence more quickly, pinpoint leads, and identify vehicles, even those with stolen plates or no plates.
Enforcing traffic safety by deploying cameras to enforce speed limits. Last week, Governor Gavin Newsom signed AB645 into law, allowing Oakland and a handful of cities to implement this program.
Strengthening Operation Ceasefire is Oakland's evidence-based strategy for reducing community violence. Oakland has enlisted the help of a nationally recognized consultant, the CPSC, to provide a clear picture of what is working well and what can be improved.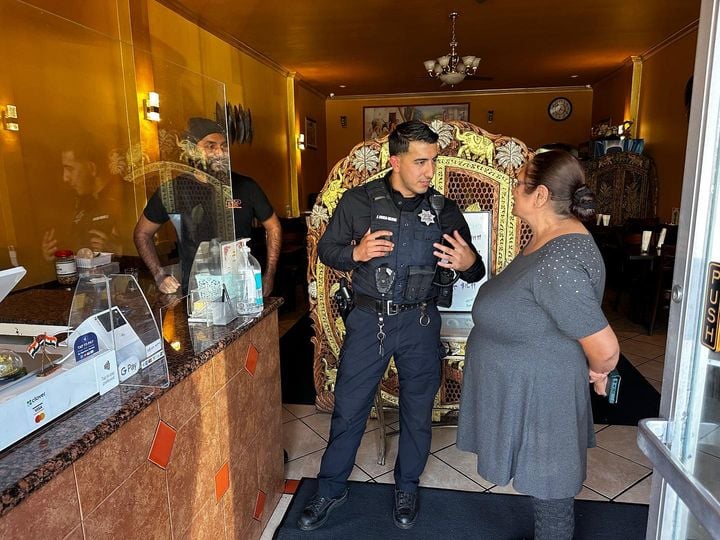 Officer Cornejo-Valdivia speaks with local merchants as he makes his round. Officer Cornejo-Valdivia is just one of 14 dedicated foot patrols making their rounds in business corridors throughout the city.
Homelessness and Affordable Housing
My approach to the Bay Area's homelessness and affordable housing crisis aggressively invests in affordable housing and protections for renters to help prevent homelessness. Homelessness and affordable housing are personal to me. My son and I slept in our car regularly until we could find secure housing.
Oakland cannot do this alone, and a regional approach is necessary. In the months ahead, I will take the lead in organizing with other Bay Area mayors to place a regional housing measure on the November 2024 ballot to expand the construction of affordable housing throughout the region.
The blueprint for this regional effort can be found in my administration's aggressive approach to affordable housing. Oakland has created a healthy, affordable housing pipeline that includes:
$200 million for creating and acquiring affordable housing units over the next two years, representing the largest investment in affordable housing.
$53 million in grant funding from the State of California to construct 1,000 new affordable housing units.
Preservation of 134 affordable units through Oaklands's Acquisition and Conversion to Affordable Housing program.
In total, Oakland has begun the process of building or preserving more than 1400 units of new affordable housing in our city. Over the next year, Oakland will break ground on over 615 units.
Homelessness is a challenge facing cities across the United States. In Oakland, we coordinate critical care and wrap-around services to help unhoused residents find a path off the streets. We will pursue this compassionate approach while promoting clean, safe, and accessible public spaces for all to use. This year, my administration worked with the City Council to create a Rapid Response Homeless Housing Acquisition Fund to help unhoused residents into safe shelters. Our city also closed Northern California's largest homeless encampment on Wood Street. City staff offered care and critical support services to every unhoused resident, and 85% accepted services. City workers removed more than 800 tons of hazardous debris from the site so construction could begin on 169 affordable housing units.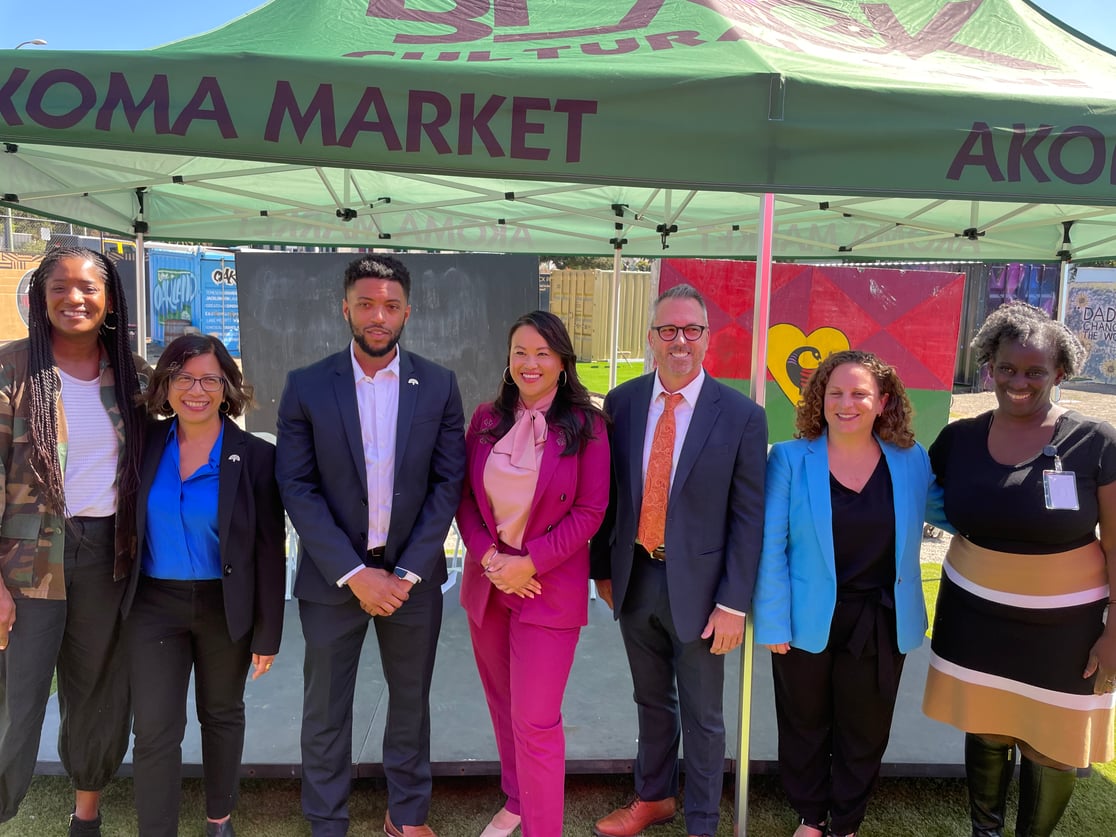 Mayor Thao stands with Councilmembers, Affordable Housing officials, and community members at Akoma Market after the state announced $40 million for affordable housing in Oakland.
Clean and Healthy Neighborhoods
Clean and healthy neighborhoods are safer neighborhoods, and Oakland is developing and implementing new strategies to achieve this outcome. In the next year, we will launch Oakland Fresh. This initiative brings together multiple city departments to tow abandoned cars, paint curbs, fix signs, clean up illegal dumping, and deploy inspectors looking for blighted properties in coordinated operations.
Oakland Fresh will join the many efforts already underway, which include:
$106 million to build, repair, and upgrade parks, recreation facilities, libraries, and storm drains. This investment includes $50 million to repave and repair Oakland's streets as a part of Oakland's 5-year paving plan beginning in East Oakland, with 10 miles of streets set to be repaved in the next six months.
$85 million in funding to calm traffic, improve intersection safety, and provide safe routes near schools and business corridors, including International Boulevard, Telegraph, Fruitvale, and 14th Street.
Monthly clean-up blitzes of major transportation corridors by Oakland Public Works.Increased access to convenient, free, and lower-cost services to dispose of unwanted material and large items for every Oakland resident. Increased the Neighborhood Bulky Block Party Program brings free large disposal services into neighborhoods.
Expansion of Oakland's illegal dumping surveillance program by adding cameras and license plate readers in critical hot spots.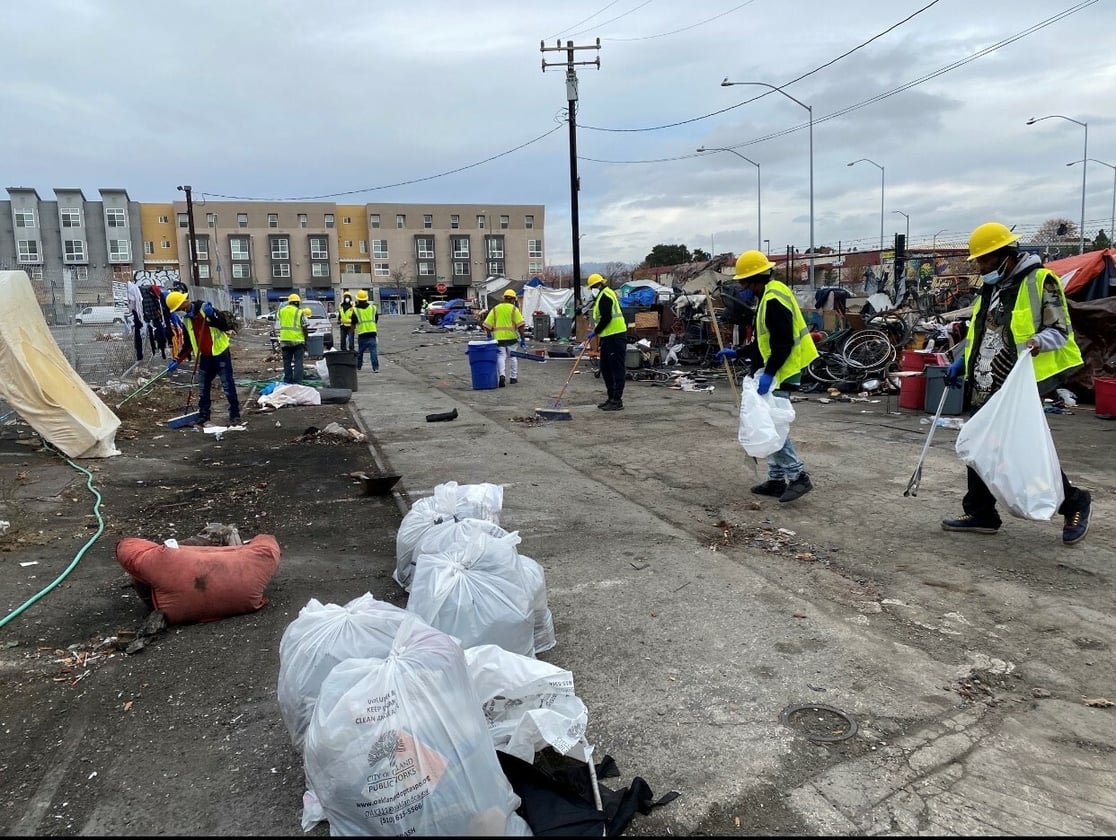 City of Oakland employees remain committed to a cleaner, greener city for everyone.
Economic Opportunity
The City of Oakland must focus on investments that will help increase economic opportunity equitably and sustainably to grow the pie for all Oaklanders. I am working with all levels of government and business, labor, and community leaders to invest in the green economy, streamline permitting, and highlight Oakland culture. My administration's efforts include:
Partnering with the Port of Oakland on greening and electrification of port facilities. Recently, Oakland was chosen to be part of the California Hydrogen Hub along with the Ports of Long Beach and Los Angeles, making Oakland even more central to a clean, green energy economy.
Cut the red tape and streamline permitting to help make it easier to start a business, build housing, or plan an event in Oakland.
Develop an Oakland Film Council to facilitate and encourage filmmakers to produce their movies, TV shows, and commercials in Oakland.
Launch Five After Five, a pilot program to allow bar and restaurant customers to park in the city's secure 19th Street Garage from 5:00 p.m. to 3:00 a.m. for only $5, Thursday through Saturday. This initiative will support Oakalnd's nightlife, concert venues, and weekend shopping.
Activate Oakland program that provides small grants to individuals, groups, and businesses to help "activate" our public spaces, attract more foot traffic, shoppers, events, and revenue, and create more inviting and welcoming experiences in our commercial districts. Oakland received more than 700 applications for grants.
Continue to recruit businesses to put roots down in Oakland. Recently, PG&E moved its headquarters from San Francisco to Oakland. Along with workers relocating from Concord and San Ramon, more than 7,000 PG&E employees will make Oakland their home base. Akash Systems, a black-owned, advanced manufacturer of semiconductors, is planning to expand in West Oakland, creating up to 500 new jobs–most of which won't require advanced degrees.
Oakland, I stand before you, determined. I'm ready to fight for that safer Oakland, that more affordable Oakland, that more just Oakland we all deserve. Join me and stand up for our beloved town. We can and will do better, and together, we will fight for the resources we need to promote a strong, safe, and thriving Oakland
Sheng Thao,
Mayor of Oakland
Coming Soon: New High Tech Cameras to Help Combat Crime

The Oakland City Council has unanimously approved my proposal to install 300 high-tech cameras throughout the city. These cameras are not just regular license plate readers, as they can help the Oakland Police Department track criminal vehicles across the city based on their unique features such as make, model, and color.

This will greatly aid the police in their efforts to make arrests and gather evidence. I would like to express my gratitude to everyone who came together under the spirit of OneOakland to ensure that this critical community safety tool was approved for use.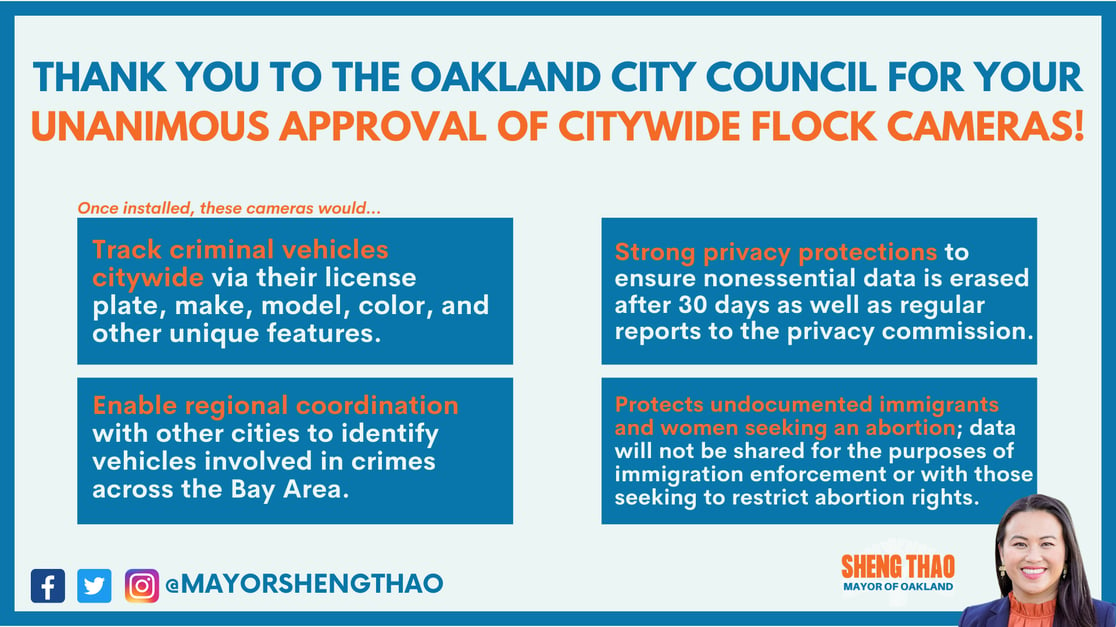 Mayor's Advisory Council on Human Trafficking

Oakland will not stand by while humans and in many cases, children are trafficked and exploited. This why I have launched a Human Trafficking Advisory Council for Oakland. Community organizations, survivor advocates, and public safety agencies will work together to disrupt the organized criminal networks which prey on the most vulnerable and harm our communities.


Organizations like S.H.A.D.E. will coordinate their efforts with public safety agencies like the Oakland Police Department (OPD). In the current year, the OPD VICE/Child Exploitation Unit, in partnership with the FBI completed 26 critical investigations, with the following outcomes:
14 minors were rescued and offered safety services as a pathway towards safety and recovery.
27 individuals were arrested for solicitation.
14 individuals suspected of human trafficking were arrested.
Multiple firearms were recovered.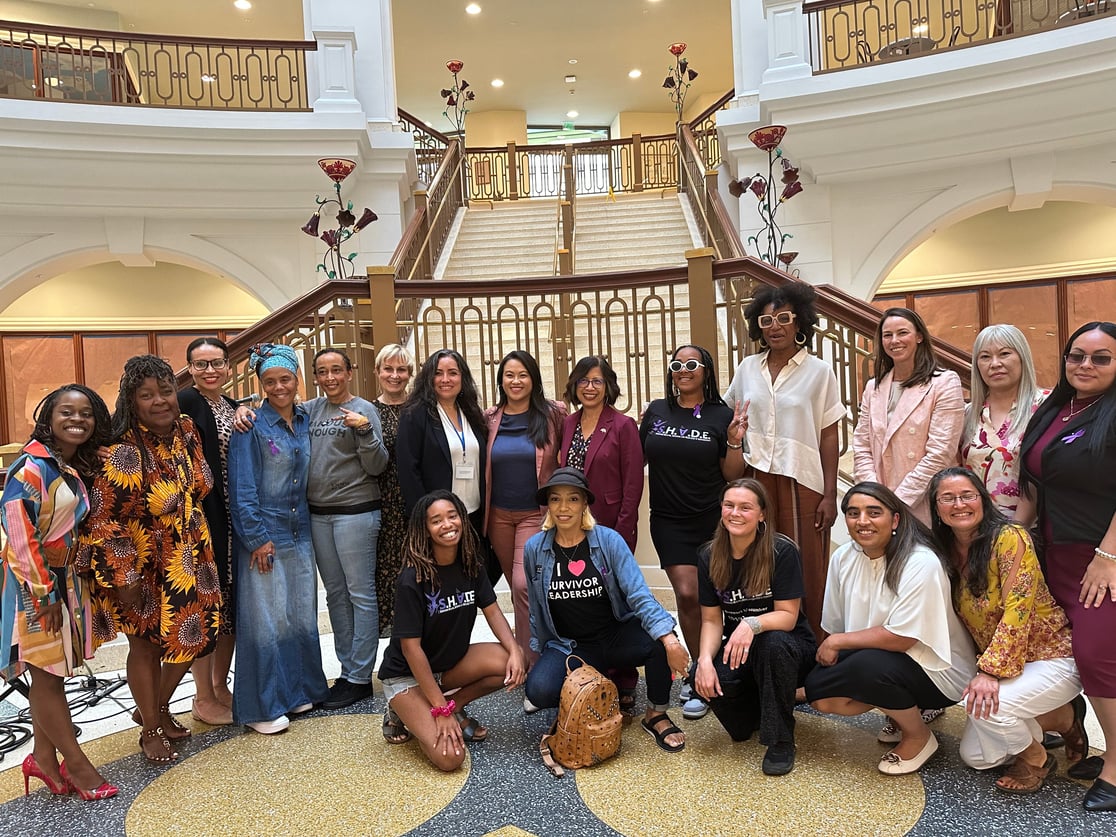 President Biden Announces Major Green Job Investments in Oakland

Last week, President Biden announced a major investment into green jobs including a $1.2 billion investment into California's Hydrogen Hub.The California Hydrogen Hub includes the Port of Oakland– one of the largest economic engines on the west coast.

This announcement by President Biden is a win for Oakland, a win for our state, and a win for our planet. The clean hydrogen energy project in Oakland will build a healthier future and create local quality green jobs while reducing pollution impacts and transitioning to clean locally produced energy. We are grateful to President Biden for recognizing that Oakland is a leader in adopting and advancing clean energy technology. I want to thank the Oakland City Council, city staff, and the Port of Oakland for working in collaboration with the Newsom Administration and the State of California to secure this critical funding.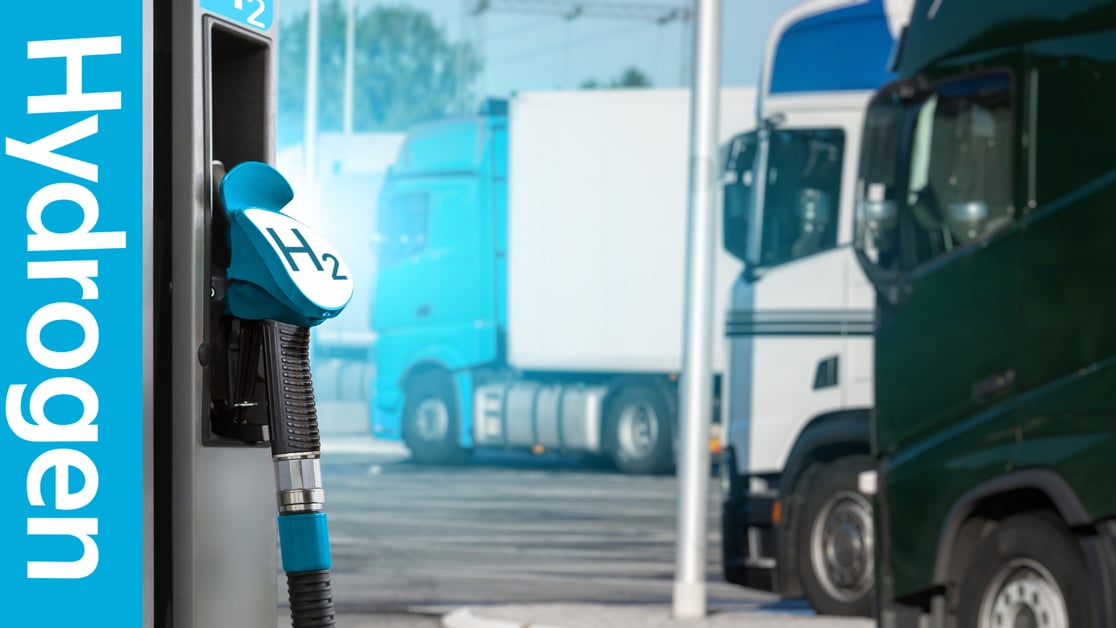 Auto Burglary Suppression Unit Makes Critical Arrests & Announces Social Media Reporting Pilot
I want to acknowledge the diligent work of the Oakland Police Department's Auto Suppression Unit in identifying and apprehending several groups of auto burglary suspects and armed robbery suspects over the last three weeks. We will not tolerate individuals coming into Oakland and traumatize our residents. This work is ongoing and we are determined to ensure every neighborhood and commercial corridor is safe for our residents.
OPD is testing a new option to report auto burglaries in process on X and Instagram.
If you see an Auto Burglary in progress during the testing period, send a Direct Message (DM) to @OaklandAutoBurg on X & Instagram with details of individuals, vehicles, license plates, and the location starting Friday.
If it's safe, snap a pic/video from a distance.
Don't engage with individuals in these crimes.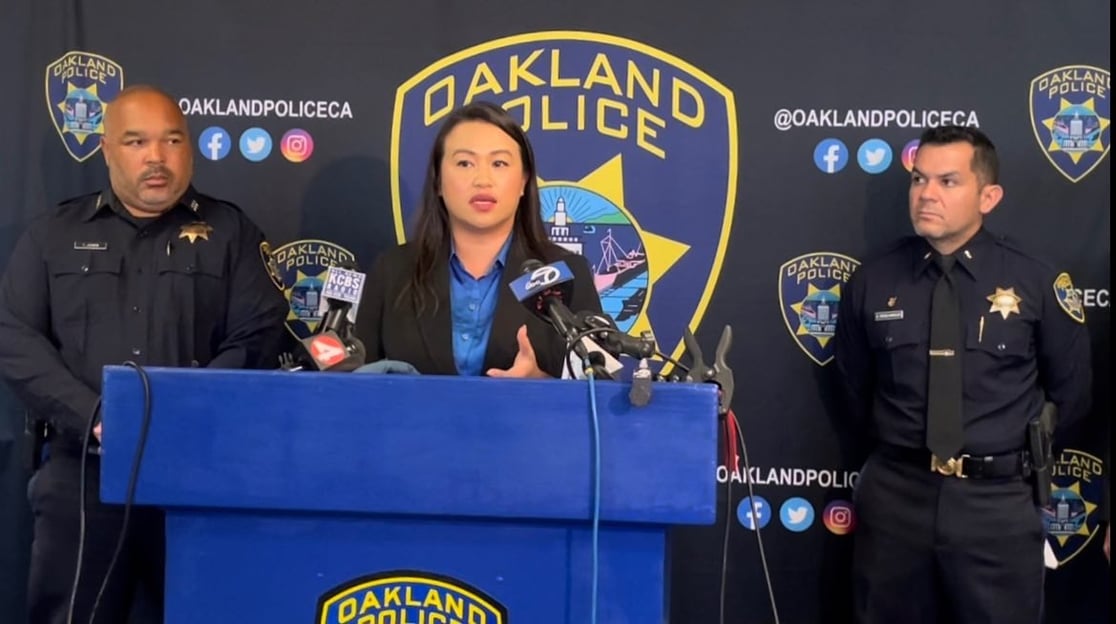 Just Future Summit 2023


Last week, I was honored to welcome the attendees of the Just Future Summit in Oakland. People from across the US gathered to discuss building a future when communities of color can build wealth and live in healthy places filled with economic opportunity at the summit hosted by the Greenlining Institute. Events like this help Oakland's hotels, businesses, and workers and help advance a more just and equitable future. Thank you The Greenlining Institute for choosing Oakland for this important summit!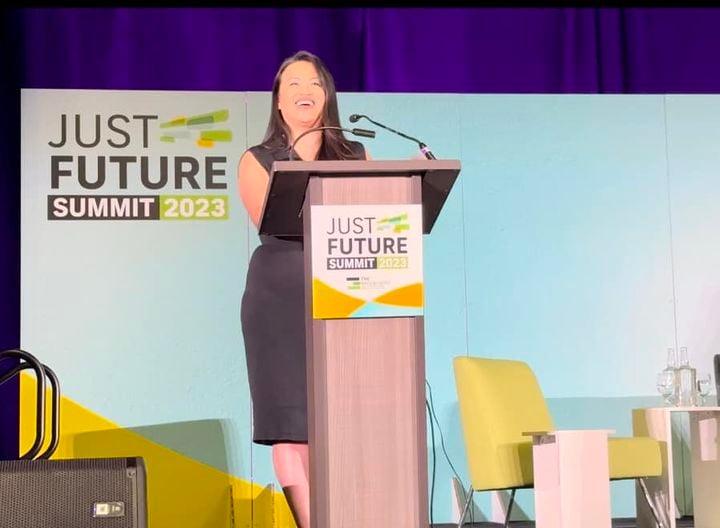 Mayor's Spotlight


I use this space to highlight residents who are showing up, leading by example, representing The Town, and simply doing positive things in the community. This week, I wanted to honor the youth who supported us in our outreach initiative Talking Transition.

These youth fellows were paid to do door to door and community outreach to gather feedback from communities across the city. Talking Transition was the largest single community outreach effort done by the city and at the core of that outreach were these young Oaklanders.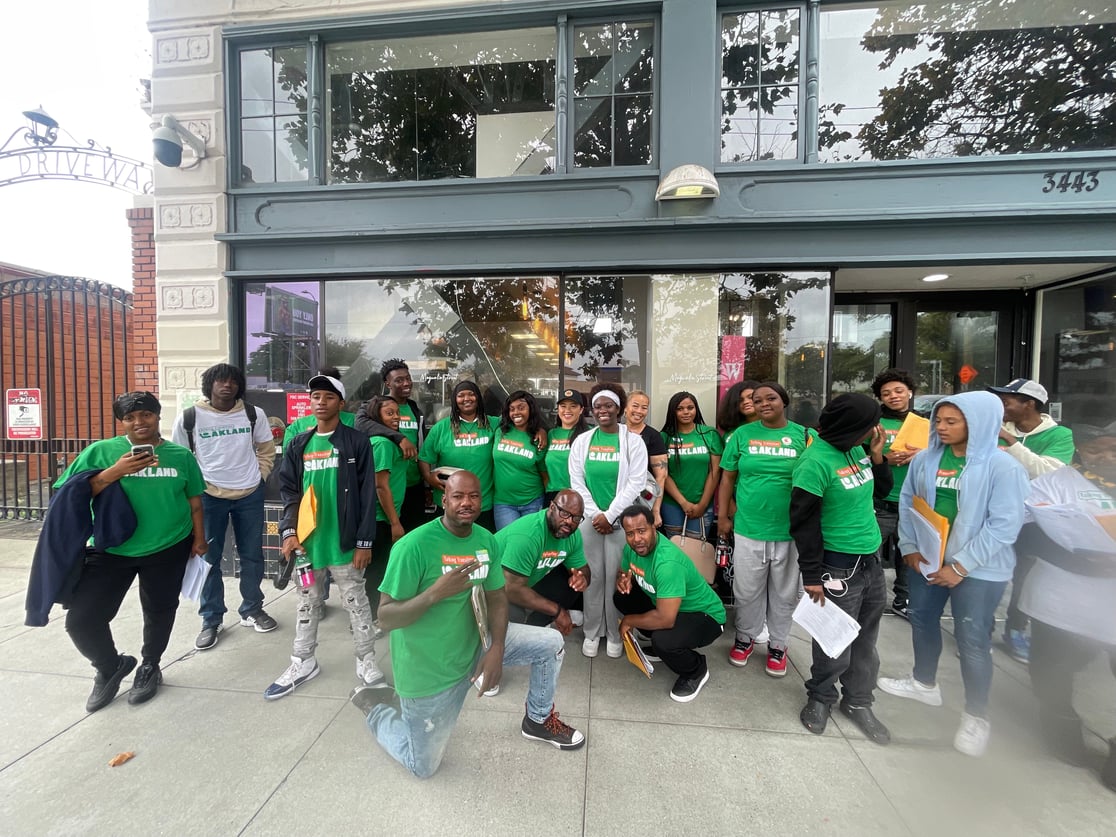 Stay up to date by following the Mayor on Facebook, X (formerlyTwitter), and Instagram.

Important City Resource Numbers


GENERAL INFORMATION: 444-CITY
POLICE (NON EMERGENCY): 777-3333
POLICE EMERGENCY (ON CELL PHONE): 777-3211
MAYOR: 238-3141
CITY COUNCIL: 238-3266
CITY ADMINISTRATOR: 238-3301
BLIGHT/CODE ENFORCEMENT: 238-3381
PERMITS: 238-3443
PARKS/REC PROGRAMS: 238-3092
PARKING CITATIONS: 800-500-6484
GARBAGE: 613-8710
DRUG HOTLINE: 238-DRUG
PROSTITUTION HOTLINE: 238-2373
PUBLIC WORKS CALL CENTER: 615-5566
PEDESTRIAN SAFETY: 238-3466
RECYCLING: 238-7283