Angelica Mendoza
Deputy Chief Bureau of Risk Management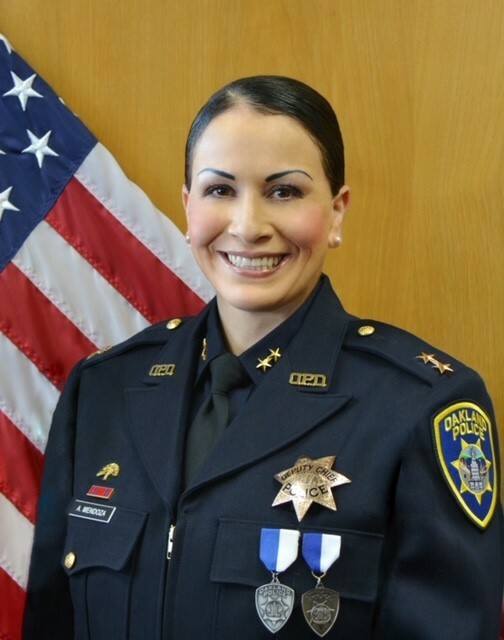 Police Department
Deputy Chief Angelica Mendoza was born and raised in Oakland and continues to reside in the city. Growing up in Oakland, she attended Garfield Elementary, Calvin Simmons Junior High, and Fremont High School. After graduating from Fremont High, she attended Cal State Hayward (now Cal State East Bay) where she received her bachelor's degree in Criminal Justice & Administration with a minor in Sociology. After graduating from Cal State Hayward, Deputy Chief Mendoza went to work for the Alameda County Juvenile Probation Department working with at-risk youth to include CAMP Ready established to guide and mentor at-risk young girls. In 1996, Deputy Chief Mendoza joined the Oakland Police Department where she worked in the following sections, units, and divisions:
Deputy Chief of the Bureau of Risk Management
Bureau of Field Operations Area Commander
Office of Inspector General (Inspector General)
Internal Affairs Division – Investigations
Internal Affairs Division - Administration
Bureau of Field Operations Watch Commander
Criminal Investigations Division (Homicide)
Criminal Investigations Division (Felony Assault)
Criminal Investigations Division (Robbery/Burglary)
Criminal Investigations Division (Gang Investigator)
Gang, Guns, Investigative Task Force
Department's Subject Matter Expert on Latino Gangs
Community Services – Crime Stoppers
Departmental Liaison for the Latino Community Advisory Committee on Crime
Traffic Section
Patrol Division
While working as the Department's Latino Liaison Officer Deputy Chief Mendoza worked closely with various community groups to include the Spanish Speaking Citizen's Foundation where she collaborated with the United States Secret Service Investigative Unit to capture a subject who was posing as a Federal Immigration Agent to extort several undocumented families and who committed crimes against their children.
Deputy Chief Mendoza has been awarded two departmental Medal of Merits, the Chief's Leadership Award, a Unit Citation and was awarded the Distinguished Officer Award for the continuous service that she provides to the community by the Mexican Consulate in San Francisco, California.
Deputy Chief Mendoza graduated from the Federal Bureau of Investigations National Academy, Session 279 representing Oakland, California where the top 1% of Law Enforcement officials throughout the world are selected to attend this prestigious training.
Deputy Chief Mendoza has received her Graduate Certificate and is completing her graduate studies in Law Enforcement and Public Safety Leadership from the University of San Diego.
Deputy Chief Mendoza is also a graduate of the Police Executive Research Forum's Senior Management Institute for Police.
Deputy Chief Mendoza was promoted as the first Latina in the history of the Oakland Police Department to serve in the rank of Deputy Chief of Police assigned to lead the Bureau of Risk Management. This Bureau centralizes functions responsible for policy, training, accountability, and risk management, with a focused effort towards full compliance and sustainability with the Negotiated Settlement Agreement and Constitutional Policing.
Email Address: amendoza@oaklandca.gov