Thank you, Oakland, for your patience and preparedness during the PG&E power shutdown. We are interested in your feedback so that we can better prepare for the future. Take this brief survey.
City Clerk LaTonda Simmons
About the City Clerk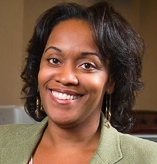 LaTonda Simmons
LaTonda Simmons has served as the City Clerk for the City of Oakland since 2005 after holding the positions of Assistant City Clerk and Legislative Recorder for 2 years prior. With the interest of improving public participation, Ms. Simmons' top priority was to streamline agenda management processes to make that information and the discussion of the legislative meetings more conveniently accessible to the public. With this objective in mind, the Office of the City Clerk has shifted subscription-based access to public agenda reports to 24/7 online free access and forums where the public can file comments with all members of the City Council and Administration at once time. She is recognized as a member of the CACEO, CCAC, and IIMC with the designation as a Certified Municipal Clerk recognizing expertise in municipal management and performance of the complex duties in the City Clerk profession. And she is a Oakland native!
Contact Us
1 Frank H Ogawa Plaza
First and Second Floors
Oakland, CA 94612
Email Address