Oakland Mayor Sheng Thao was joined by Councilmembers Treva Reid, Kevin Jenkins and Janani Ramachandran on Monday to kick off Oakland's Spring Clean with an event focused on repairing roads hard hit by winter storms. The Pothole Blitz Update is the first in a series of events focused on city services that make Oakland cleaner and safer.
"I am so excited that the City is coming together for our One Oakland Spring Clean. And we're starting with a top concern of so many of our residents - fixing our roads," said Mayor Thao. "Dry, warm spring weather means we can finally tackle the backlog of pothole fixes to give all Oaklanders safer and smoother roads. Our Department of Transportation workers have made progress addressing the backlog through the Pothole Blitz and today we want to showcase their efforts and update our community on the progress being made."
"Filling the potholes now is a priority for me and my East Oakland constituents. We've escalated an increased number of potholes through Oak311 and it's great to see OakDOT crews out and about getting this important work done. In the long term, we're investing in critical road repaving to make our city streets more resilient thanks to voter-backed initiatives so we can have safer streets in every part of The Town," said District 7 Councilmember Reid.
"This is a public safety issue - damaged roads are more dangerous to our residents. And we want all Oaklanders to feel and be safe when they travel in their communities. We have a lot of work to do to repair our roads and infrastructure but working together we can make real progress," said District 6 Councilmember Kevin Jenkins.
"I am grateful that OakDOT is responding to the cries of our communities to repair our roads in the wake of massive storm damage. Oaklanders deserve safe roads, and I look forward to seeing the positive impacts of the Pothole Blitz in the coming weeks," said District 4 Councilmember Ramachandran.
"Oakland's Department of Transportation is committed to fixing our roads after a long, hard and wet winter. Our Pothole Blitz is focused on clearing the backlog of 311 road repair requests and will help all our communities, particularly those Communities of Concern where aging infrastructure is more susceptible to storm damage." said OakDOT Director Fred Kelley.
Extreme weather conditions have made it difficult for the City to conduct routine maintenance over the winter months and caused more extensive damage than Oakland normally sees.
The blitz dedicates bolstered maintenance crews to focus on pothole patches and similar street repairs, to address the most impactful and damaging potholes that were exacerbated by this year's cold and wet winter. Wet weather in February and March slowed the launch of the blitz, because rainy conditions make pothole patching ineffective. As weather dried in recent weeks, crews have been able to make major progress on this important priority – repairing an estimated 2700 potholes since March 1, with much more work ahead as the blitz continues into May. Residents are encouraged to continue reporting potholes in their neighborhoods by contacting OAK311.
Pothole repairs will provide short-term relief at highly impacted locations while OakDOT continues to deliver long-term solutions by fully paving badly damaged City streets. Paving in Oakland is prioritized through a nationally-recognized model that weighs street conditions and equity conditions to invest paving funds where they are most needed. The streets slated for paving are identified in the Council-adopted 5 Year Paving Plan. These longer-term investments are putting to work essential voter-approved funding from Measure KK (2016) and Measure U (2022).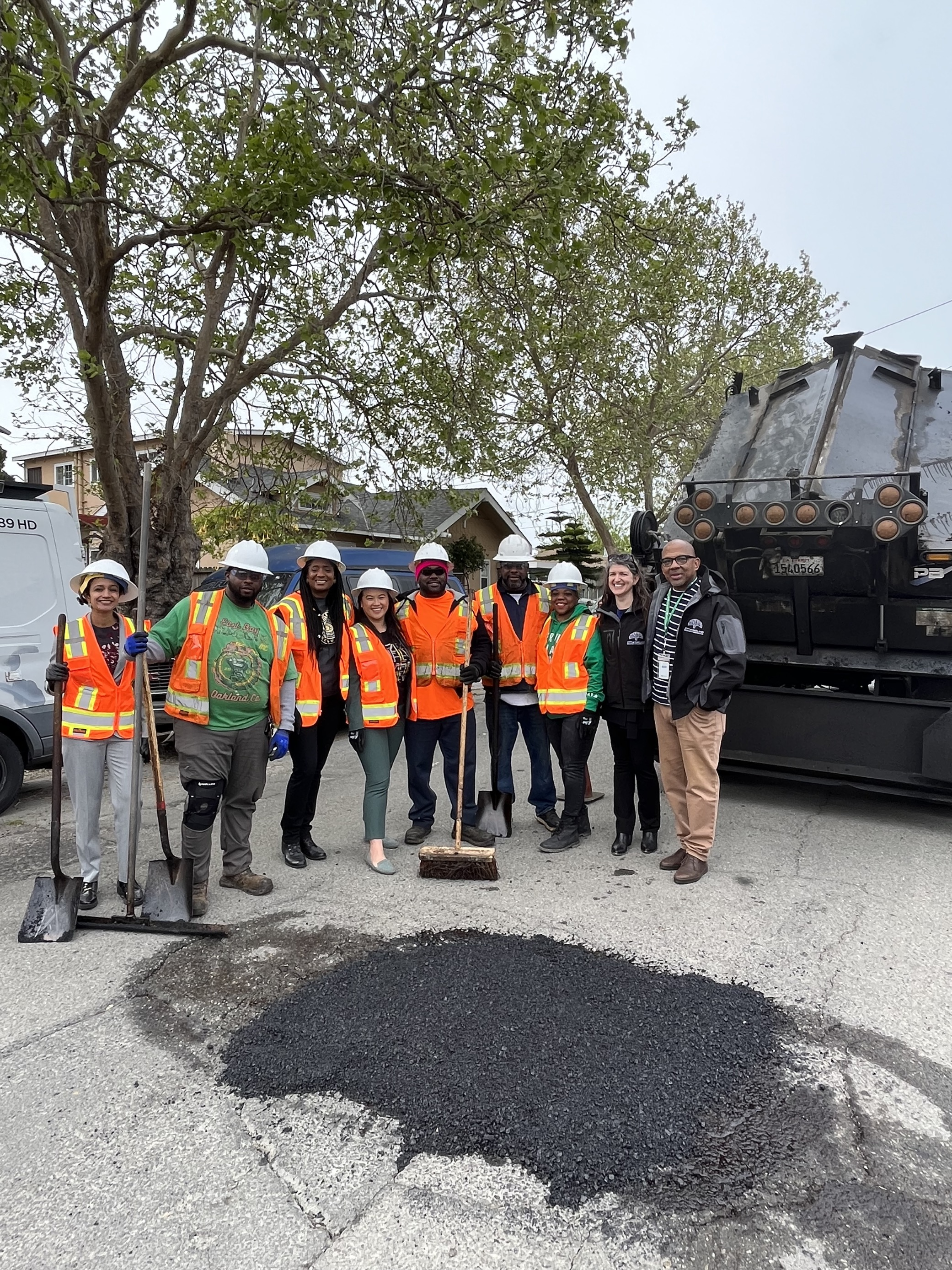 # # #