Hello Neighbor:
September 20,2022, at 1:30 PM, the Oakland City Council will have its first Council meeting returning from summer recess. I am ready to continue to working to:
Bring economic opportunity and revitalize the Oakland Coliseum with a resolution calling on the Women's National Basketball Association ("WNBA") to make the City of Oakland the home of a new WNBA Team
Support for reproductive freedom through a Resolution in Support for California Proposition 1 - The Right to Reproductive Freedom Amendment
Celebrate our partnered accomplishments to legalize and give equitable access to the cannabis industry with a resolution Celebrating Oaksterdam University's 15th Anniversary​
---
​Oakland City Council Meeting
When: September 20, 2022
Time: 1:30pm
Zoom Link: https://us02web.zoom.us/j/88283837181
---
Calling on the Women's National Basketball Association ("WNBA") to Make the City of Oakland the Home of a New WNBA Team #WeGotNext!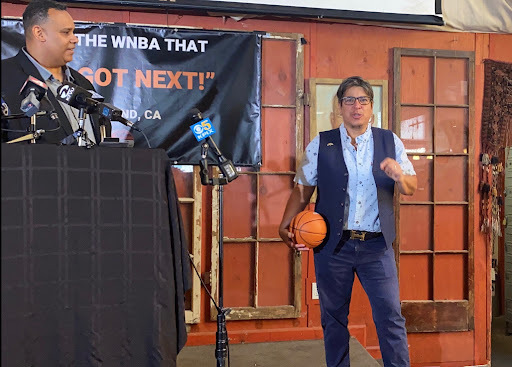 The WNBA has discussed plans to expand the number of WNBA teams on their roster for the past number of years. As these conversations unfold, the City of Oakland must make it clear that not only are we supportive of bringing a WNBA Team to Oakland, but are excited to be partners and collaborators with the WNBA during the expansion. This resolution, therefore, extends our strong support towards this effort and urges the WNBA to make Oakland the home for a WNBA team.
Oakland is ideally suited for a WNBA team because of our fervent and rooted fanbase, existing arena space, and shared core values with the WNBA. The Bay Area has the fourth-highest number of WNBA fans among U.S. markets without a WNBA team - 418,816 WNBA fans, higher than eight current markets with a WNBA team. More than a half million Bay Area market adults play basketball, and the Bay Area ranks in the top 30 markets in household delivery for the WNBA Regular Season.
In October of 2021, it was announced that WNBA Champion and four-time WNBA All-Star Alana Beard, who spent 15 years playing the WNBA and earned back-to-back Defensive Player of the Year honors, and Attorney Jade Smith-Williams, of the law firm Baily & Glasser, LLP, a local Oakland women's basketball legend and who played professionally overseas, would join in the leading efforts by the African American Sports and Entertainment Group ("AASEG") to have an Oakland Black and Women WNBA Team ownership process.
In addition to a strong fan base, Oakland already has a world-class arena at the center of a multimodal corridor ready to house a WNBA team. The Oakland Arena is easily accessible by both highway and public transportation, complete with a pedestrian bridge that allows fans direct access from the Coliseum BART station. The arena sits on 132 acres with 10,000 on-site parking spaces. It is also airport accessible, and a stone's throw away from the Capitol Corridor rail line. This multimodal connectivity will allow not only Oaklanders to conveniently attend games but also fans from across California. From former Monarchs supporters to women's basketball enthusiasts, Oakland will draw fans from the Bay Area megaregion and beyond.
Support to bring a WNBA team extends past a solid fanbase, as local regulating agencies have also taken key votes to prepare for a WNBA team in Oakland. With my leadership, in July 2021, both the Oakland Coliseum Authority and the Oakland City Council unanimously and enthusiastically voted in favor of a term sheet to bring a WNBA team to Oakland.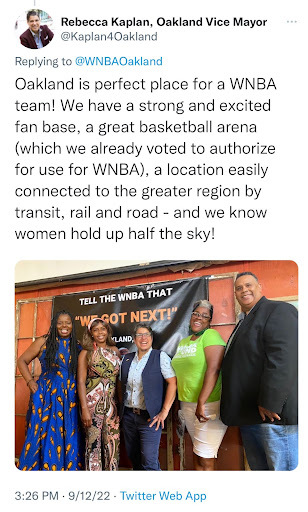 Link to the Resolution and Memo
---
Link to News:
---
Resolution in Support for California Proposition 1 - The Right to Reproductive Freedom Amendment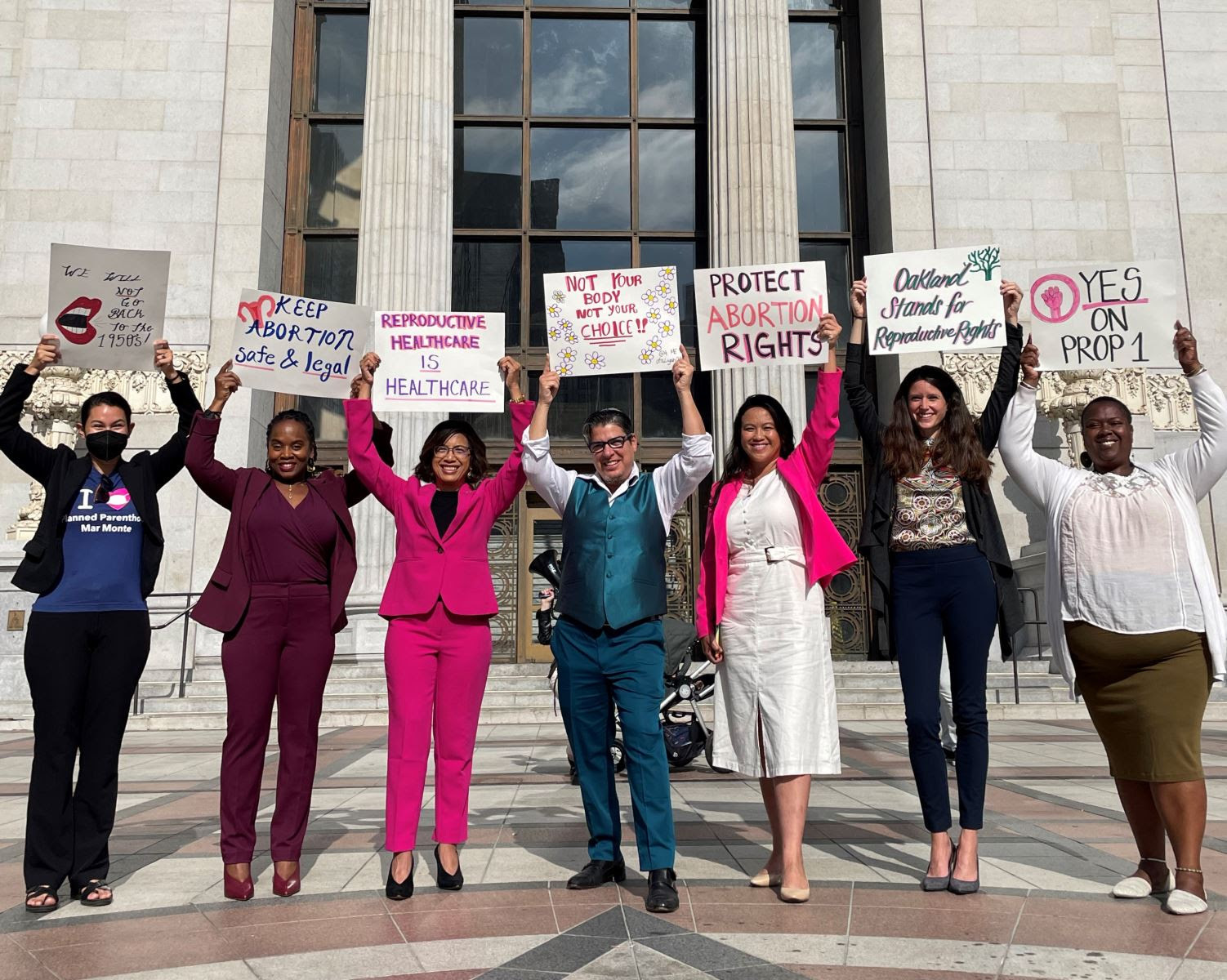 Council President Nikki Fortunato Bas, Council President Pro Tempore Sheng Thao, Council member Fife, and I, are introducing a resolution declaring Oakland's support of California Proposition 1 -- Right to Reproductive Freedom Amendment.
Prop 1, if passed by the voters in the general election on November 8, 2022, would amend the California Constitution to expressly provide that the State of California shall not deny or interfere with an individual's reproductive freedom, including their fundamental right to choose to have an abortion and their fundamental right to choose or refuse contraceptives.
Since the Supreme Court's shocking ruling issued on June 24, 2022, which reversed the federal constitutional protection of abortion rights, more than 20 states have restricted access to abortions, imposing criminal sanctions on individuals receiving or performing an abortion, and in some cases, imposing civil offenses against any person who aids or abets a person from receiving an abortion.
Oakland has pushed back against these regressive policies, passing Resolution No. 89201 CMS, which declared Oakland a Right-To-Choose Sanctuary City. Now, we, the authors of the Oakland resolution making Oakland a Right-To-Choose Sanctuary City, call on our Council Colleagues to once again take a strong stand for reproductive rights by voting in support of Prop 1 and calling on all California voters to vote Yes on Prop 1!
Link to News:
https://www.cbsnews.com/sanfrancisco/news/oakland-city-council-resolution-reproductive-rights/
---
Celebrating Oaksterdam University's 15th Anniversary
Since 2007, Oaksterdam University ("OU") has been committed to the mission of providing students across the globe with the knowledge and skills they need to lead and succeed in the cannabis industry. With more than 80,000 alumni from over 100 countries, Oaksterdam is the most recognized name in cannabis education, providing a trusted cross-disciplinary curriculum that covers the most recent developments in cultivation, business, and policy.
Their faculty features award-winning cultivators, business owners, academics, and passionate advocates who shaped the early medical cannabis movement and continue to set the standard for the modern commercial cannabis industry. Recognized programs at Oaksterdam University include the Business of Cannabis, Horticulture, Extractions and Manufacturing, and Budtender Certifications
OU offers technical assistance in partnership with the City of Oakland's Department of Race and Equity, designed to build a thriving cannabis business in Oakland with courses like Business, Supply Chain, Financial Literacy, and Advanced Security.
With a rich history of advocacy and education that has been on the cutting edge of the cannabis industry industry for 15 years, not only do industry professionals rely on Oaksterdam to offer quality educational resources, but government officials, regulators, and law enforcement also look to OU staff and faculty to help guide policy and frame the market of tomorrow.
I am honored to uplift and celebrate Oaksterdam University 15th year honoring the spirit of civil disobedience and a deep commitment to equity, social justice, and civil rights, highlighting the movement that started in Oakland and would impact the whole world.