Human Services Delivers Food, Offers Free Classes & Grants, and More This Holiday Season!
Date Posted: December 22nd, 2020 @ 10:08 AM
Last Updated: December 22nd, 2020 @ 11:23 AM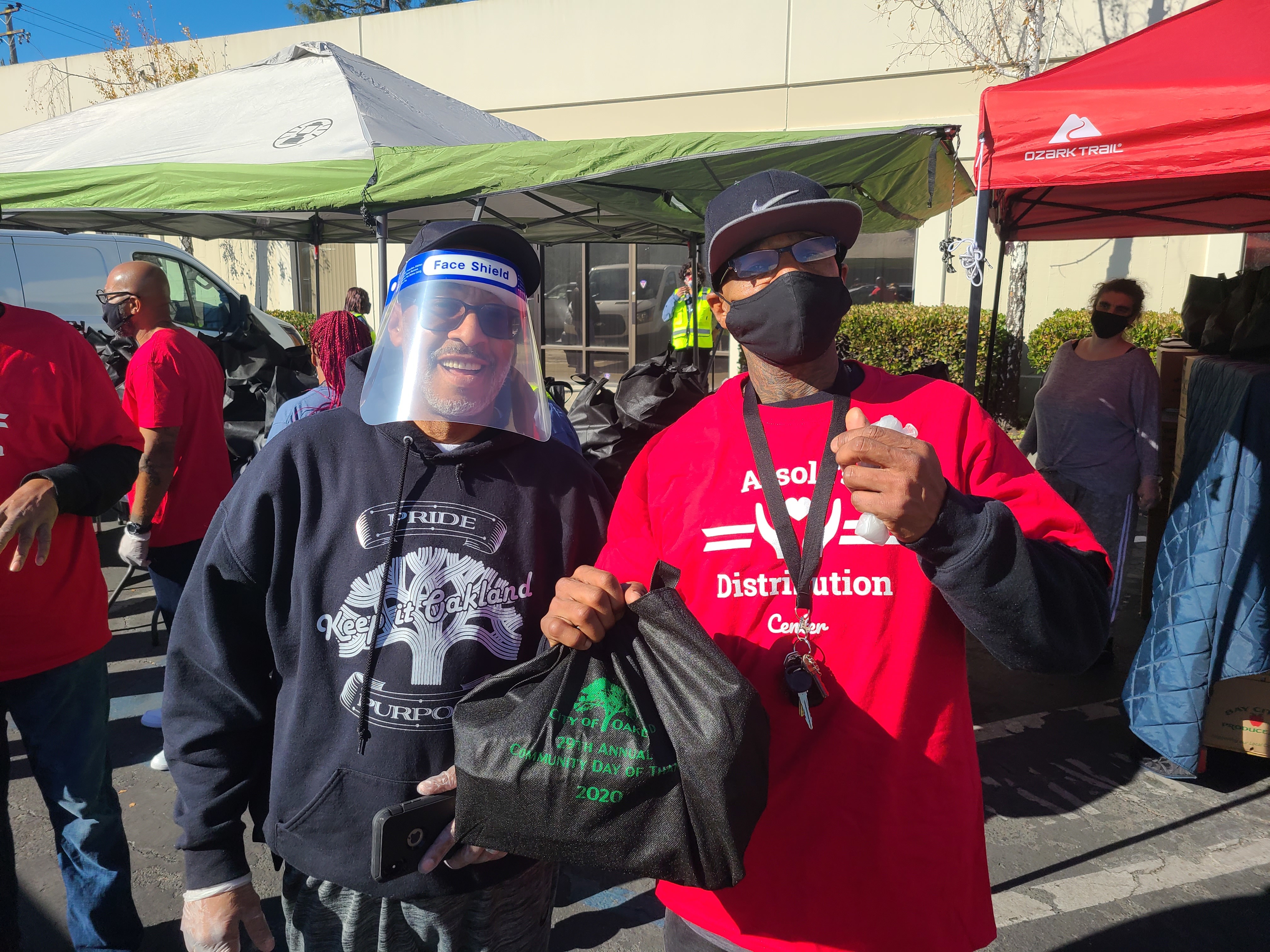 During this year's Community Day of Thanks (above), Human Services Department employees and volunteers handed out 3,000 meals around Oakland.
Updates from the Human Services Department, December 2020
Key Resources
Reminder: Alameda County Under Stay-at-Home Order
Alameda County is temporarily adopting California's Regional Stay-at-Home framework. From December 7, 2020 to January 4, 2021, all private gatherings are prohibited and new restrictions to businesses and services apply. See the summary of changes here. COVID-19 cases in Alameda County are currently trending upward (see data here) and it will take a collective effort to bend the curve once again, save lives and give us a chance to enter 2021 with more stability.
Free Veterinary Services Clinics Begin at Curbside Communities
Oakland Animal Services held its first community outreach clinic at the High Street RV Park on November 22, offering free veterinary services, vaccines, microchips, pet food, leashes and collars. It was a big success, with 33 animals served at the clinic, including 30 dogs and 3 cats. A few animals also received follow-up care at the shelter, and 12 animals are scheduled to receive free spay/neuter services. A highlight was helping Abner, the little dog pictured on the left, whose walk at the marina the previous day resulted in a fishhook being stuck in his mouth. His guardian noted that he would not have been able to help his dog without this free service. Contact outreach@oaklandanimalservices.org for more information, and call 510.535.5602 for non-emergency service support from Oakland Animal Services.

Ideas for How to Spread Holiday Cheer — Not Germs
Bake some treats and drop them off on the doorstep of your loved ones nearby, or mail the treats in a cookie tin across the country.

Watch a feel-good movie with a loved one while video chatting.
Send small craft kits to family members who don't live in your bubble, and then hop on Zoom to make those crafts together! First up, draw your own holiday cards?
Decorate your space with anything fun and festive, nothing fancy needed! Check out the Human Services Department offices above, which one dedicated employee decorated even though most people are still working from home.
An Inspiration! 103-Year Old Oaklander Survives Two Pandemics
Mrs. Mary Ella Gilliland has seen it all. The longtime Oakland resident has survived the 1918 flu and the 2020 COVID-19 pandemics, as well as two World Wars, and is still around to tell the tale. She was born in Houston, Texas in 1917, before moving to Oakland in the late 1940s. She worked as a caterer and a homemaker, while her husband Wilburn Gilliland served as a City of Oakland employee for nearly 3 decades. She adopted a daughter named Renee, who says, "I owe everything to my mother for the person I am today." Mrs. Gilliland turned 103 on December 7 and received a signed letter from the Mayor. Like most of us this year, she had a birthday celebration — over Zoom! Check out the City of Oakland's services for seniors here. And don't forget to practice healthy habits like daily exercise, even during a pandemic!
Live the Good Life With Oakland Seniors
Older Oakland residents can access new virtual cooking and exercise classes thanks to a partnership between UC Davis and the City of Oakland, sponsored by the California Department of Public Health. This new Good Life Series is part of a clinical trial conducted by UC Davis, led by David K. Johnson, PhD. Director of the UC Davis Alzheimer's Disease Center to look at the interaction between Alzheimer's Disease and diabetes in minority communities in East Oakland. The program was originally set to begin in-person on April 1, 2020, but due to the COVID-19 pandemic, the program has pivoted to become a COVID-19 response team that delivers services to Oakland residents through a digital media campaign. By June 2020, the program had over 70 Seniors in their virtual exercise and cooking classes and has continued to connect those that may be experiencing isolation during these challenging times. The program has proven to be a remarkable success to the senior community by creating an inclusive environment and encouraging social connections among older adults. Seniors that are interested in joining the classes may enroll online by visiting thegoodlifepath.org.
Special $300 Tax Deduction Will Help You Give to Charity This Year
Following special tax law changes made earlier this year, cash donations of up to $300 made before December 31, 2020, are now deductible when people file their taxes in 2021. "Our nation's charities are struggling to help those suffering from COVID-19, and many deserving organizations can use all the help they can get," said IRS Commissioner Chuck Rettig. "The IRS reminds people there's a new provision that allows for up to $300 in cash donations to qualifying organizations to be deducted from income. We encourage people to explore this option to help deserving tax-exempt organizations – and the people and causes they serve." For more info, read this article.
Calling All Oakland Youth: Apply for a $5k Project Grant!
Are you a young Oakland resident? Do you have ideas on ways to build community, healing, and promote safety in your community and schools? Here's your chance to bring those ideas to life and make a big impact on your community! Oakland ReCAST is offering up to $5,000 in grant funds for your project. You must be between the ages of 13 and 21, and you must partner with an adult ally. The four categories for project ideas include: education and awareness about law enforcement interactions, community and relationship building, resiliency and healing, and addressing trauma. Applications are due January 19, 2021. For more information about the Youth-to-Youth mini-grant and how to apply, head to the Oakland Human Services website. You can download the application here.
5 Steps to Deal with Stress with SF Stressbusters
Stress comes in many forms. It's that uneasy feeling we get when we're upset — whether it's because we're angry, worried, depressed, or upset for other reasons. In these challenging times, it's very easy to be stressed and anxious. But thankfully, the San Francisco Stress Buster workshops are coming to the Oakland Senior Centers! The workshops will include info on how stress starts and a simple effective method to handle your reaction to situations. You'll learn a five step process to reduce stress and help you better respond to any situation in a helpful less stressful way.
Dates: Every Wednesday starting on January 6, 2021
Time: 10am-10:30am
Duration: 10 weeks
Community Day of Thanks Delivers 3,000 Meals Across Oakland
COVID-19 couldn't stop the 29th Annual Community Day of Thanks from delivering warm turkey dinners around the city of Oakland! On November 24, Talia Rubin and the mighty Community Housing Services team delivered 3,000 meals to sites throughout Oakland with the help of volunteers — all while navigating new safety protocols. The annual event is usually held in the Oakland Downtown Marriott, and we hope to dance together there next year. You can support the Hunger Program with financial contributions to fund future meal distributions across the city.
Covered California: Open Enrollment Is Happening Now!
Open enrollment for 2021 coverage through Covered California has begun. For 2021 coverage, the open-enrollment period is November 1, 2020, through January 31, 2021. California residents and lawfully present people in the state are eligible for a health plan through Covered California. Click here to apply or renew coverage. If you have recently experienced a qualifying life event, you can enroll at any time of the year. Medi-Cal enrollment is also year-round. Medi-Cal and Covered California use the same application. After you enter your information, you will find out whether you qualify for Medi-Cal or Covered California.
Has COVID-19 Affected You Financially? Call PIC for Help!
The Oakland Private Industry Council is offering one-time cash assistance of $599 per adult to people in need of financial support. PIC is also offering assistance with paying costs like rent and utility bills. To schedule an appointment, call the Oakland Career Center by the Lake: (510) 858-6742 or West Oakland Neighborhood Career Center: (510) 419-0392. For Spanish, call Mayra Ramirez at (510) 910-0986. In order to qualify, you must:
Be affected financially by COVID-19
Have proof of Right to Work in the USA
Be a City of Oakland resident
Homeless people and veterans are welcome to apply!
Contact the Human Services Department
The Oakland Human Services Department exists to make our city a place that works for all. We offer free programs and provide public resources to community organizations that make sure all of our residents can access what they need to be safe, healthy and realize their full potential.
Human Services Main Office
510-238-3121
150 Frank H. Ogawa Plaza, 4th Floor
Oakland, CA 94612
Alameda County Oakland Community Action Partnership
510-238-2362
Community Housing & Homelessness
510-238-6187
Head Start
510-238-3165
Oakland Fund for Children & Youth
510-238-7163
Oakland Youth Advisory Commission
510-238-3245
Senior Services
510-238-6137
Sugar Sweetened Beverage
510-238-7163
Summer Food Service Program
510-238-7992